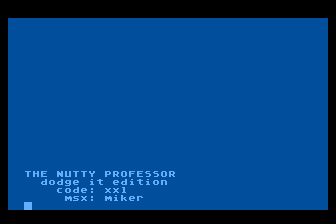 Nutty.. Nutty… skąd ja to znam? Pierwsze moje zetknięcie z tą grą i… szok: OMG! O co tu biega ? No i okazuje się, że tu – na ekranie – biega sobie mała kropka, druga: migająca kropka i parę dużych. Karmimy się oczywiście migającymi kropkami, które pojawiają się losowo na ekranie przecinając tor ruchu z pozostałymi "kropami" (które oczywiście powodują "niestrawność").
Profesor Nutty – jeśli nadal nie kojarzysz, skąd znasz tą nazwę, to naprowadzę Cię (mnie naprowadził XXL – od razu wtedy gra stała się bardziej zrozumiała): "Gruby i Chudszy" – wspaniała komedia (z niezastąpionym Eddiem Murphy'm w kilku rolach) miała w języku angielskim nazwę właśnie "Nutty Professor".
Gra nawiązuje do rozstrzygającej (dla profesora Klumpa) sceny, gdy jego "chude ja" na przyjęciu chce przejąć nad nim władzę – gdyby film miał alternatywne zakończenie, to właśnie nasza "kropa" grała by w nim główną rolę – jedyny sposób, by wygrać, to ciągle korzystać z serum odchudzającego.
Na koniec powiem jeszcze, że gra kończy się po trzech minutach, gdy zegar pokaże 00:00:00 "ja" Profesora Klumpa zginie i zastąpi go Buddy Love. Jeżeli jesteś na tyle zwinny aby przez trzy minuty utrzymać się w ciele Buddego Love zanim skończy się działanie serum – to wygrana gracza okazuje się przegrana głównego bohatera filmu…
Sterowanie
Joystick w porcie 0
Ciekawostki
# Gra znajduje się również w pakiecie Unity Games Sikora
# Dyskusja o grze
Credits
Muzyka: Miker
Data: 12 / 2009
Download
Gra